The Greatest Gaming Gifts
Some items below were gifted & there are affiliate links in some areas
Christmas is over for another year – the turkey has been eaten, the decorations are down and the presents have been unwrapped and enjoyed!
This Christmas Joshua asked for a fish tank, a Nerf gun and lots and lots of things for and relating to his Xbox. Here are some of the cooler gaming gifts he received, and some links to where you can get them, in case you too have a young gamer in your family!
Jurassic World Evolution 2
This was top of Joshua's Christmas wish list and for good reason, as the original game was awesome! He's spent many months building his dinosaur parks, learning all the names, knowing what their wants and needs are and completing every mission on every island. To be fair, his dad has been pretty engrossed with it too!
It's a lot like Zoo Tycoon and all of those other tycoon type games, but it's got dinosaurs in it and, as everyone knows, everything is better when it has dinosaurs in it! The sequel is just as awesome, and takes everything to a new level, with new missions, new dinosaurs, new buildings, new adventures and more of all the great things from the original and from the films. Jurassic World Evolution 2 came out late in 2021 and is available from all games retailers for around £40, including from Amazon.
Minecraft Smart Watch
When we spotted this in Smyths and saw the price, we assumed it would be really basic and low quality. But it's actually REALLY good and has actually encouraged Joshua to start wearing a watch!
It has quite a few cool features, such as a pedometer, a camera, a voice recorder, photo album and games. It also tells the time, as you might expect from a watch and has a nice Minecraft themed appearance and screen. Joshua loves it, and for the price we were very keen too!
Minecraft Top Trumps
We enjoy playing a bit of Top Trumps in this house and have a few different themes ones from over the years. The new one for this year is this Unofficial & Independent Guide To Minecraft. If you haven't guessed already, Joshua loves Minecraft and anything related to Minecraft, so this new version is ideal for him, as the cards feature all of his favourite characters!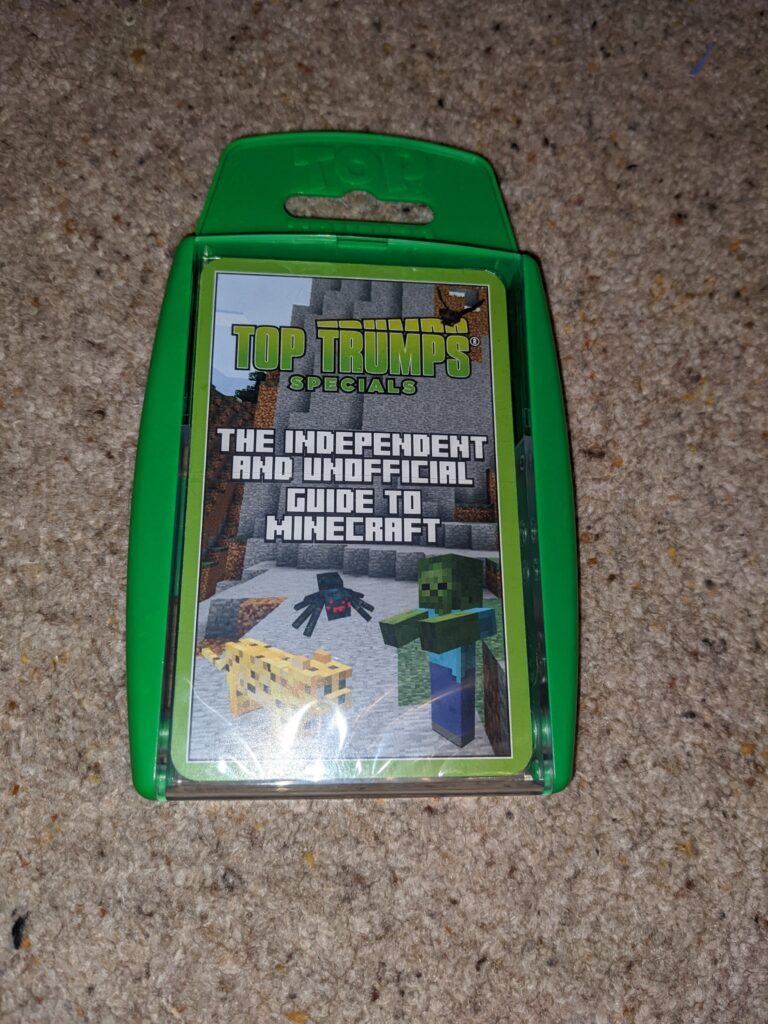 As with all Top Trumps games, the rules are simple. One player picks a stat from the top card in their deck that they think will be high enough to beat the other players. The other players then reveal the matching stat from their own top card and whoever has the highest stat gets to keep all of the cards from that round. If the chosen stat results in a tie, the cards are kept in the middle for the next round. The rules are simple, the game is fun for all ages and very easy to pick up and this unofficial Minecraft version is perfect for any Minecraft enthusiasts out there – which is pretty much everyone of Joshua's age!
They are made by Winning Moves and there are loads of themed Top Trumps sets to choose from from around £6 – £8. Bargain!
Xbox Kinect
The Kinect was the weird motion sensor box that came bundled with the original Xbox One, but gradually faded out of popularity so stopped being included and then eventually stopped being sold at all!
For me, the Kinect is still good fun for the games that are made for it, so I found one at a reasonable price on eBay for Joshua to have a play with. He loves dancing, so it's great fun for playing Just Dance with, as it tracks your motion as you dance so the better you follow the routine the higher score you get.
There's also an excellent sports game, some fitness titles and a few other fun games that are Kinect compatible, so if you can find a second hand one it's still worth a go, although you will need an adapter if you want to use it with an Xbox One S or X.
Minecraft Block Building Light
These are pretty awesome, and a fun, creative way to light up a room for any Minecraft fans. It comes with 16 blocks that are based on the various blocks in the game itself, and you can connect them in whichever pattern you fancy to create your own unique light design. Each block glows and has its own pattern so it does genuinely give some really cool results.
It's made by Paladone and can be bought from lots of different places for around the £35 mark, including Amazon.