Luxury Chess & Backgammon Folding Sets From Jaques Of London
Items gifted for review
There's something special about wooden toys and games. I'm not sure if it's because they feel like better quality than plastic ones, or a bit more 'classy' or whether they just feel more traditional, but I've always been drawn to them!
We've tried to use wooden toys where we could over the years for Joshua, aside from his Xbox of course which unfortunately isn't available in a wooden option! Now he's a bit older we decided it would be a great time to start teaching him some classic games. So when we were offered the chance to review a couple of wooden games from Jaques Of London it felt like perfect timing!
Jaques of London specialise in quality wooden toys and are the oldest games company and sports manufacturer in the world, having been founded in 1795. They are known for inventing some of the most popular games in existence, including croquet, snakes and ladders and ludo and are still a family run company today, with the business having been passed through the generations!
Luxury Folding Chess Set
First up is this really rather lovely folding chess set, in an attractive walnut and sycamore wood. All of the pieces have their own little slots within the board, so when it's folded in half everything looks neat and tidy. Perfect if you want to keep it packed away and then pop it out when you fancy a game or to take it away to play with family and friends.
The whole set is really good quality throughout and really looks the part. The pieces are all beautifully hand-crafted and nicely weighted and Joshua was very impressed.
Considering Joshua had never played chess before he actually picked it up really quickly and even asked if he could play rather than me forcing him to try it!
He has asked to play it a few times each day every day since, and he's getting pretty good at it. He has even downloaded chess on his Xbox so he can practice against the computer so he can get good enough to beat me on the proper version, so it's only a matter of time now!
The Luxury Folding 15 Inch Chess Set, along with many other top quality chess sets, is available from the Jaques Of London website for £31.99 and will serve you well for many years to come.
Luxury Backgammon Set
In a similar vein to the luxury chess set, the luxury backgammon set comes beautifully packaged and looks amazing straight out of the box.
Again, as with the luxury chess set, the luxury backgammon set comes with hand-crafted pieces and looks and feels like a lot of work and skill has gone into its creation. It's designed to be played on-the-go, so again everything can be packed away and folded up with ease and set up again at a moment's notice.
It comes with the two sets of counters, five die, two dice shakers and the board itself, along with some basic instructions for those unfamiliar with the game. The set comes in an attractive leatherette style, so looks as good as it plays.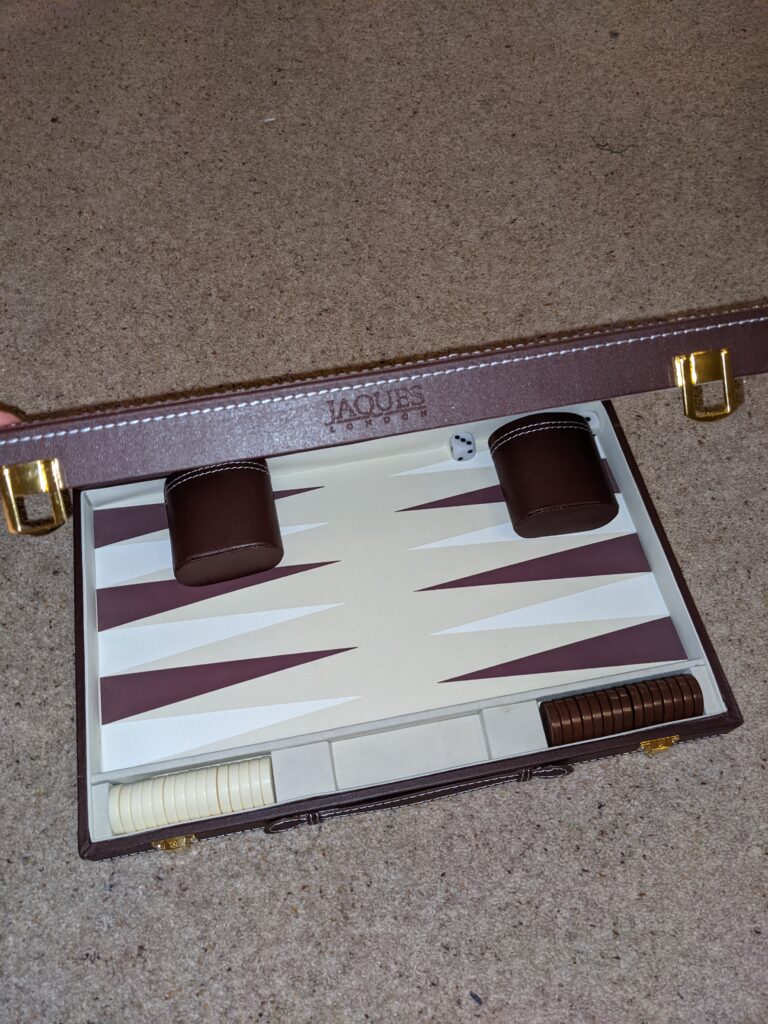 This lovely set, along with many other excellent backgammon sets is available on the Jacques Of London website for £39.99.
Everything on the Jaques website oozes quality and durability, which is what you would expect from a name you can trust. Joshua loves the chess set and keeps asking for a game after school, and no doubt he'll also love backgammon once he gets his head around the rules! For top quality at a fair price it's well worth a look.